Paprika Chicken With Sour Cream Gravy
Brenda.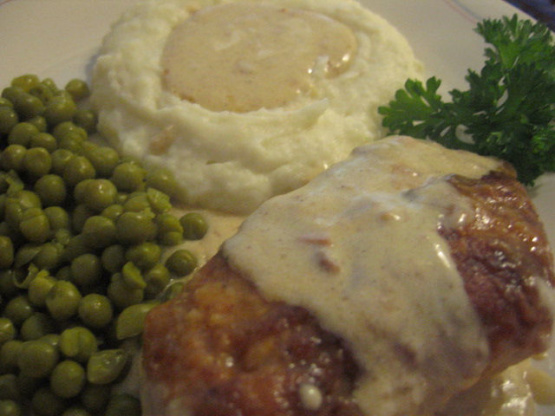 A quick and easy chicken and gravy recipe for those rushed weeknight meals.

The verdict is in and we have a WINNER! This a great one dish meal you can have on the table in less than 30 minutes. I was out of cayenne, so I sustituted by using more hot paprika (half and half), and out of green onions, so I chopped a yellow onion and added a bit of chives for the color in the sauce. I could have licked the pot clean to get at all that gravy! The DH, and 2 coworkers raved! I am too!
In a ziploc baggie, combine flour and seasonings.
Add chicken and shake to coat.
Melt butter in a large skillet.
Brown chicken in butter, about 4 minutes per side.
Add soup and onions to skillet.
Cover and cook over low heat for 10 minutes or until internal juices of chicken run clear.
Stir in sour cream.
Serve with mashed potatoes or rice.