Paprika Chicken With Cannellini Beans, Quick & Easy
AB_Fan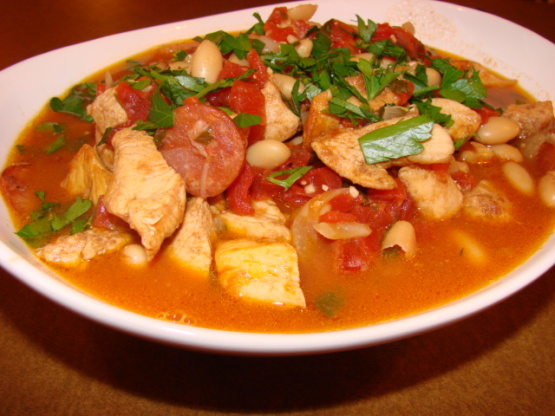 I found this recipe in a local paper, made this for dinner last night, served over white rice and was most impressed. Very quick & easy to make and so tasty!!! The recipe says to use full fillets, which I did, but I think that diced chicken would be better and will use that next time.

This is a fantastic and quick weeknight dinner with an interesting taste - we enjoyed the flavors as the paprika adds something unusual. I served it over rice - it was a great one dish meal! I added an extra clove of garlic and next time will probably add a few more for a little extra kick. I will also omit the chicken stock as I do not think it is necessary. Also, canned tomatoes worked fine for me. Thanks again!!
Heat oil in a large pan.
Sprinkle chicken with paprika and fry about 8 min, skin side down or until crisp, Turn chicken over and cook 5 mins (if using diced chicken just saute till golden) Remove from pan and keep warm.
Add onion, garlic and chorizo to pan and cook 5 mins,.
Stir in tomatoes, beans stock and wine.
Return chicken to pan and bring to the boil, reduce heat and simmer 2-3 mins, ( a bit longer if you want the sauce reduced more).
Season to taste if you like.
Add lemon juice and parsley and serve.