NELady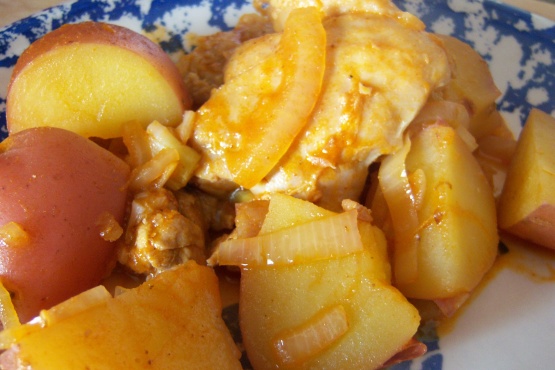 A lovely winter dish by Merrillees Parker ('Good Food' magazine, Novemver 05) using sherry instead of wine which gives the sauce a softer flavour. I added more paprika, though, and a hint of chilli which is not in the original recipe. I also added a red bell pepper, which worked well. Please note that the cooking time really depends on the chunks of your potatoes. I had to more than double the stated time. However, that shouldn't worry you as the dish can be prepared in advance and reheated. And yes, it's also suitable for freezing :).

Top Review by NELady
This was a filling dish - I omitted the sherry as I don't cook with liquor (don't have any in the house) and subbed extra chicken broth. I added the suggested chili powder - a pinch of it - though I couldn't taste any of it in the dish. It needed salt - easy enough to add at the table. I liked the potatoes better than the chicken. Personal thing. Thanks for the recipe! Made for 1-2-3 Hit Wonders Tag Game.
Heat 1 tbsp oil in a sauté pan over a medium heat. Season the chicken and add to the pan. Fry for about 4 mins until browned all over. Lift out of the pan and set aside. Heat the remaining oil in the pan and fry the onion for about 3 mins, until it is jus softened, then add the garlic and cook for a further minute.
Add the potatoes, mustard and sundried tomato paste to the pan, and cook for 1 minute Stir in the paprika, chilli if using, vinegar, sherry and stock. Bring to the boil and allow the liquid to reduce for 2 minutes.
Return the chicken to the pan, cover and simmer for 10 minutes. Stir well and simmer with the lid off for another 8 minutes, or until the sauce is thickened and the potatoes and chicken cooked through. I had to cook my stew much longer, as my potatoes weren't cooked.
Can be frozen at this point for up to 1 month.
Check the seasoning and serve in bowls with a dollop of soured cream (optional) and a sprinkling of parsley (optional).