Pappasito's Pinto Bean Soup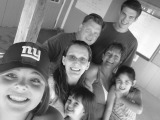 I found this is a stack of old handwritten recipes. I probably copied it from the Houston Chronicle?? I have not made this at home yet, so serving size and prep time are a guess. Also, I personally would drain some of the bacon fat and add the salt to taste, but I am listing it how it was originally written. Please note these beans should soak for 8 hours, so plan ahead.
Directions
Soak beans in 2 qts water for 8 hours Drain and set aside.
In a heavy pot, cook bacon until done. Remove bacon and set aside, leaving bacon fat in pot. Add garlic, 2 Tbls. cilantro and onion to hot bacon fat. Cook until onion is transparent.
Add beans, bacon, cumin and onion powder. Stir in salt and remaining 1 qt water.
Turn heat to med-low and cook slowly until fork tender. Just before serving, stir in remaining cilantro and tomatoes.
Reviews
Most Helpful
This was a delicious recipe!! I used 2 extra large cans of black beans with the juices in place of the pinto beans and it still was amazing!! I will definitely be making this one again and again!!
This was a nice, easy to prepare soup, which smelled quite good as it cooked. Adding the fresh tomatoes and cilantro right before serving was a nice touch, adding a bright color and flavor. Thanks for sharing! PAC Fall '12

DH and I both liked this. I loved the flavor the cilantro gave the soup while cooking. Thank you for posting this recipe.