Pappardelle With Peas and Asparagus in Orange-saffron Sauce
PaulaG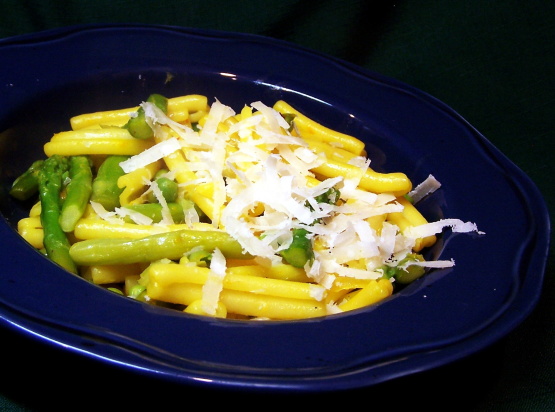 This Italian cuisine recipe was published in our local newspaper. I have yet to try it, but it sounds delicious and the photo published in the paper is mouthwatering! If you try this, I hope you enjoy it!
Top Review by PaulaG
This is a very good meatless main course dish. I was not able to find the pappardelle pasta so I substituted and not having fresh garden peas, I used frozen. I cut the preparation down to 1 pan. I cooked the pasta in the boiling water and the last few minutes I tossed in the asparagus and then the peas. When all was done, I drained, added the safron to the pan along with the butter, onion, zest and juice. This made for a beautiful presentation and really does require lots of fresly grated parmesan cheese.
Trim and cut the asparagus into 1 inch pieces.
Chop the onion to your desired texture.
Bring a large pot of water to boil and add the asparagus.
Cook until crisp-tender, approximately 3-4 minutes.
Remove the asparagus and set aside.
Add the pappardelle to the boiling water and cook till al dente.
While the pasta is cooking, set a large skillet over medium heat.
Add saffron to the skillet and heat till the saffron is fragrant and brittle, approximately 30 seconds.
Crush the saffron to a powder with the back of a wooden spoon.
Add the butter to the pan, heat till melted.
Add the onion and saute till translucent.
Stir in peas and orange zest, cook about 2 minutes, till peas are tender.
Add the orange juice and asparagus, cook till the asparagus is warmed through.
Season to taste with salt.
When the pasta is cooked, drain and toss with the asparagus mixture.
Serve with the grated Parmesan cheese.