Pappardelle With Mushroom Sauce
rpgaymer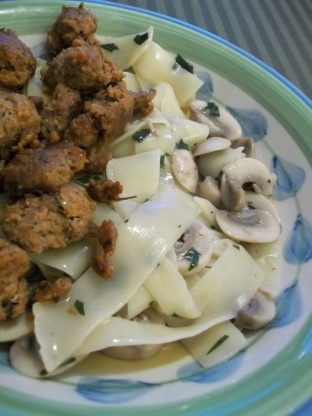 Pappardelle is my favorite kind of pasta. This is a quick and flavorful recipe. I use all kinds of mushrooms including dry ones.
What a great, easy-to-make pasta recipe. Unfortunately, I could not find pappardelle pasta, but I found some Polish egg noodles that made a decent substitute. I loved the sauce- it wasn't heavy at all and you could taste the mushrooms throughout. I just served some crumbled Italian sausage over the dish and this made it a complete, tasty meal. [Reviewed for PLEASE REVIEW MY RECIPE]
Wash and dry mushrooms thoroughly and slice thin.
Heat olive oil in a large skillet.
Add garlic and sauté over medium heat about 1 minute.
When garlic begins to color, add sliced mushrooms.
Sauté mushrooms over high heat until lightly colored.
Add wine.
Cook until wine is reduced by half, stirring constantly.
Add parsley and cook 1 minute longer.
Season with salt and pepper.
Fill a very large saucepan two-thirds full with salted water.
Bring water to a boil.
Add pasta.
Bring water back to a boil and cook pasta uncovered until 'al dente'.
Drain pasta and place in skillet with sauce; add butter.
Toss pasta, sauce and butter over medium heat until sauce coats pasta, 20 to 30 seconds.
Serve immediately.