Pappardelle Bolognese Con Verdure
MsPia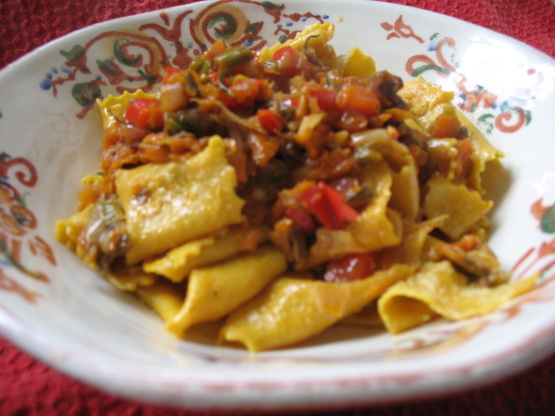 Pappardelle Vegetable Bolognese. I'm a meat lover, so I wasn't sure about this meatless Bolognese, but it is very flavourful. The Pappardelle were homemade, using Diana's Master Recipe for Pasta Dough and adding some Turmeric and Paprika to the flour to give a little extra color and flavor.
Soak mushrooms in boiling-hot water 15 minutes.
Meanwhile, pulse carrots, celery, shallots, and bell pepper together in a food processor until chopped.
Heat olive oil in a 12-inch heavy skillet over moderately high heat until hot but not smoking.
Add chopped vegetables, rosemary, salt, and pepper and saute, stirring occasionally, until vegetables are golden brown and tender, about 12 minutes.
Lift mushrooms out of soaking liquid, squeeze excess liquid back into bowl (reserve liquid), and rinse mushrooms well to remove any grit.
Finely chop mushrooms, then add to vegetables in skillet along with tomato paste. Cook over moderate heat, stirring, 1 minute.
Add wine and boil until wine is reduced by about half, about 2 minutes.
While sauce is cooking, cook pasta in a 6 to 8 quart pot of boiling salted water until 'al dente'. Reserve 1 cup pasta-cooking water in a heatproof measuring cup, then drain pasta in a colander.
Add reserved mushroom-soaking liquid to sauce and bring to a simmer. Add pasta and 1/2 cup reserved cooking water to sauce, tossing to coat (thin sauce with additional cooking water if necessary).
Stir in cheese and serve immediately.