Papoutsakia - Little Shoes (Stuffed Miniature Eggplant)
awalde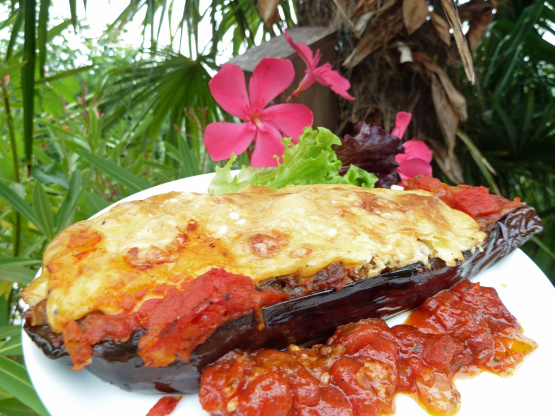 This is a classic Greek dish, utilizing the little eggplant one can now find on the market. If you cannot find miniature eggplant, just use the longish ones available (not flask - unless VERY small).

This was a stuffed vegetable dish with a difference!! Had no problem finding the kefalotiri cheese, it is the most popular type of cheese to cook with here in Cairo, and the aubergines are ten-a-penny here too!! I think the cinnamon gave this delectable dish its special touch, and it is the first time I have used a bechamel sauce with this type of dish.As i am used to making stuffed vegetables, a mainstay over in this part of the world,I didnt find this dish too complicated. The truly nice thing about this is that it cooks away quietly in the oven!! Wow!!
Brown onions,garlic, meat and cinnamon lightly in butter, stirring constantly.
Add tomatoes, salt and pepper.
Cook covered for about 15 minutes, allowing meat mixture to become quite dry.
Remove from heat.
Add parsley, egg, 1/2 cup cheese and bread crumbs.
Preheat oven to 350°F.
Along what you choose to become the'top' of each eggplant, peel a 1 1/2 inch strip from one end to the other and make an incision along the strip to within an inch of each end, making a little pocket.
Place in baking dish and bake in moderate oven until soft and light brown, about 30-45 minutes.
Insert knife blade into incision, make an opening and stuff with teaspoonfuls of meat mixture, making sure each little eggplant gets an equal amount of stuffing.
Prepare bechamel sauce: Melt butter over low heat; add flour, salt, pepper and nutmeg; stir until well blended.
Remove from heat.
Gradually stir in milk and return to heat.
Cook, stirring constantly, until thick and smooth.
Remove from heat.
Add the egg and remaining cheese to the sauce and whisk briskly, to prevent the egg from curdling.
Pour about one tablespoon on top of each eggplant pocket.
Sprinkle with additional grated cheese and dot with butter.
Add tomato sauce to the pan.
Bake for about 35 minutes longer.