Bergy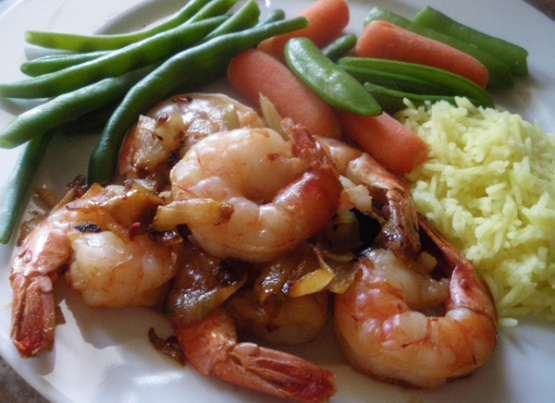 Simple and quick. Love those shrimp, can't get enough of them! I usually up the garlic to 3-4 cloves. Cooking time is estimated depending on the size of your prawns.
1

lb prawns
1⁄4 cup chopped onion

2 -3

tablespoons oil
1⁄2 teaspoon salt
1⁄8 teaspoon ground red pepper (just a pinch, add if more heat is required)

4

ounces dry white wine (or water)

2

garlic cloves, crushed
1⁄2 teaspoon paprika
1 1⁄2 tablespoons parsley, finely chopped
Wash prawns.
Brown the chopped onion in a heavy frying pan until golden.
Add the prawns and continue cooking until they turn pinkish-red in color.
Season and add a glass of dry white wine or water to the pan, then the crushed cloves of garlic and paprika.
Cover the pan and allow to simmer for about 5 minutes.
Check the seasoning, sprinkle with fresh parsley and serve.