PaulaG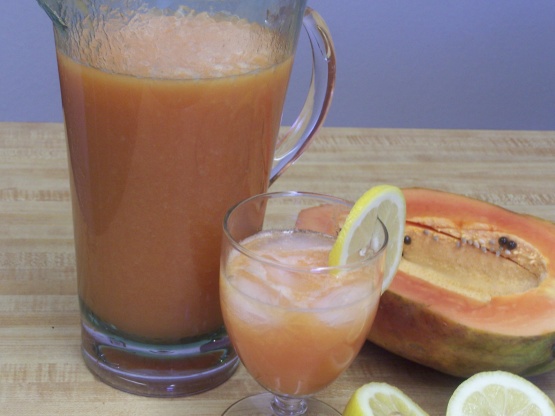 This is a lovely lemonade and a great way to use papaya! From Perfect Food magazine. For weight watcher's this is 2 points.

This is my 3rd attempt to consume papaya, the first two times were whole fruit bites. One bite each time, and I couldn't handle it. The fruit is beautiful, but the smell and initial flavor are really hard to get over. I could still smell the papaya smell and got hit with the papaya flavor, but after the first few swigs, I began to enjoy it. It was a little too syrupy for me, so I will cut the sugar in half the next time I make this. Thank you!
Combine sugar and boiling water, stirring until sugar dissolves.
Let cool slightly.
Place sugar syrup, 2 cups cold water, papaya, and lemon juice in blender; process until mixture is smooth.
Stir in remaining 1 1/2 cups cold water.
Serve over ice.
Enjoy!