Kim D.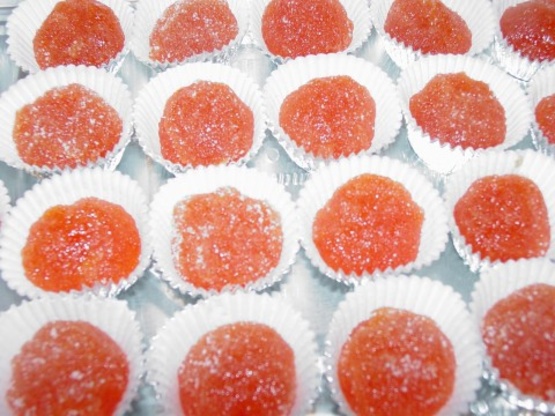 This recipe comes from a friend of mine from Trinidad. She serves these candies every Christmas.

Chewy tropical candy. (Note that the nutrition information isn't really correct, because the recipe amount of sugar is only for one cup of papaya, not a whole fruit.) I got about six cups of squeezed grated pulp from a large papaya, so used 4 1/2 cups of sugar. I used about two tablespoons of lime juice. I heated the syrup mixture to soft ball, which is a good bit past where it starts to gel. The candy was a little sticky but malleable after cooling slightly. I just made the balls and let them finish cooling overnight, without rolling in more sugar.
1

papaya, peeled and grated

1

teaspoon lime zest

2

teaspoons lime juice

3

cups sugar (approximately. use 3/4 cup sugar per every cup of papaya)
green food coloring or red food coloring
Squeeze excess juice out of the grated papaya.
Measure the papaya: to every cup of papaya, add 3/4 cup sugar.
Mix the papaya, sugar, lime peel and lime juice in a saucepan.
Cook slowly over medium/low heat until the mixture "gels".
Add a few drops of food coloring.
Cool.
Shape into balls and roll the balls in granulated sugar.