Papaya and Strawberry Coulis over Pound Cake
Acerast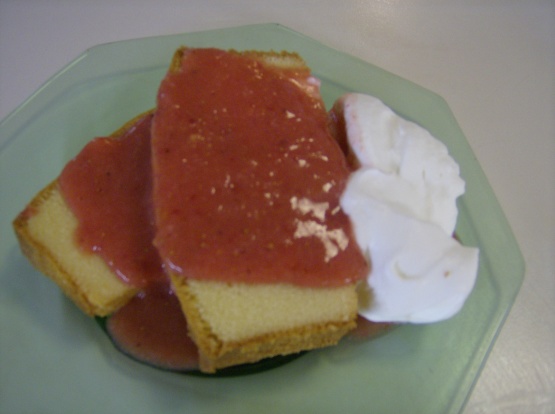 An easy dessert that is both French and Carribean!

Yum!! The bright flavors of the fruit were a nice contrast to the buttery sweetness of the pound cake. This is a stress-free dessert that can be thawed, sliced, blended and served from the patio - perfect for summer entertaining or on those nights that I don't want to heat up the kitchen. Thanks Charmie777. Made for Ali Baba's Babes for ZWT5.
10 3⁄4 ounces frozen pound cake

1

cup individually frozen strawberries
1⁄4 cup rum (light or dark) or 1⁄4 cup unsweetened apple juice
3⁄4 cup chopped papaya
whipped cream
Cut pound cake into 6 slices and arrange on individual serving plates.
Combine the strawberries and rum (juice) in blender. Cover and pulse on and off until the mixture becomes a coarse puree.
Add papaya to blender and pulse until the mixture is smooth.
Pour 1/4 cup coulis (puree) over each cake slice and top with a dollop of whip cream.
Serve at once.