Paparadelle With Mushrooms, Asparagus and Pignoli
gemini08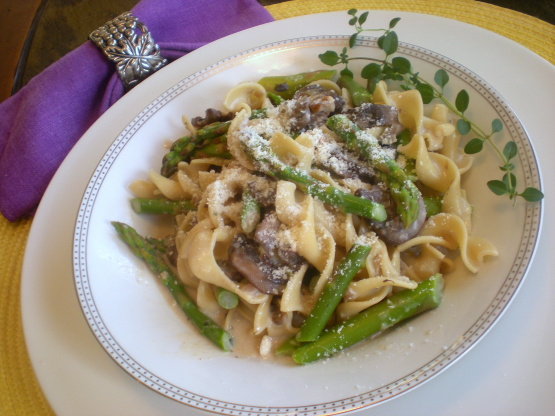 Paparadelle pasta in a creamy mushroom asparagus sauce. Simple and delicious.
Make your own pasta or use any broad noodle. Cook pasta according to directions.
Cut asparagus into 1 inch diagonal pieces and steam for about 5 minutes until crisp-tender. Set aside.
In large skillet, melt butter and cook onions and mushrooms until tender, about 5 minutes. Add garlic and saute another minute.
Add heavy cream and bring to a boil. Add the cooked asparagus, herbs, pasta and pignoli and toss to coat with sauce. Fold in cheese and add salt and pepper to taste.