Paparadelle With Mushrooms, Asparagus and Pignoli
Prep 10 mins
Cook 15 mins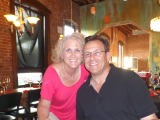 Paparadelle pasta in a creamy mushroom asparagus sauce. Simple and delicious.
Directions
Make your own pasta or use any broad noodle. Cook pasta according to directions.
Cut asparagus into 1 inch diagonal pieces and steam for about 5 minutes until crisp-tender. Set aside.
In large skillet, melt butter and cook onions and mushrooms until tender, about 5 minutes. Add garlic and saute another minute.
Add heavy cream and bring to a boil. Add the cooked asparagus, herbs, pasta and pignoli and toss to coat with sauce. Fold in cheese and add salt and pepper to taste.
Reviews
Most Helpful
Delicious pasta dish, perfect for Good Friday! I followed the recipe but used half and half instead of whipping cream, it still had a lovely, creamy consistency without beiing heavy! Definately a keeper! Made and reviewed for PAC Spring 2013.