Panzanella Salad With Bacon, Tomato and Basil
Nimz1466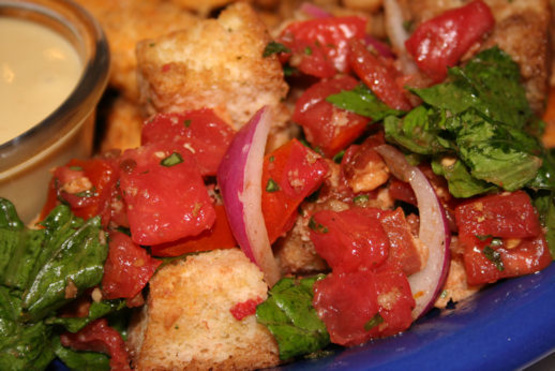 This is from Cooking Light magazine. A great refreshing Italian salad. You can make the tomato mixture the day before and the toss with bread and lettuce just before serving.

Simply splendid. Used some sourdough that was getting stale. I could up huge bowls of this!
Preheat oven to 350º.
Combine first 5 ingredients in a bowl; stir with a whisk.
Add tomato, onion, basil and bacon; toss well. Set aside.
Arrange bread cubes in a single layer on baking sheet. Lightly coat bread with cooking spray.
Bake at 350º for 15 minutes or until toasted; cool.
Add bread and lettuce to tomatoes; toss gently to combine.
Serve immediately.