Pantry Shells and Cheese Made "better"
Nif_H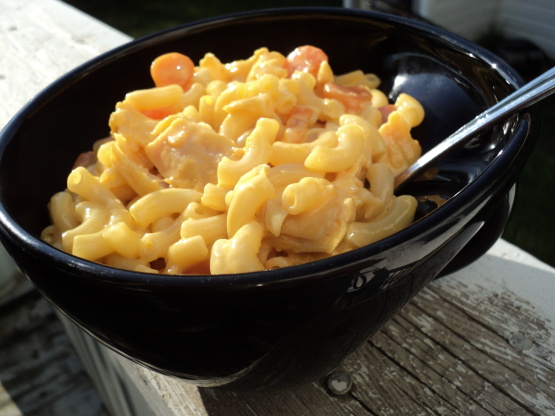 When my twins were two years old I was working evenings. They loved pasta and cheese and it was easy for my hubby to fix. But by itself it is not too healthy. I devised a series of recipes based on a box (or two) of Shells and Cheese and various cans of food. The shells and cheese called for in these recipes are the kind with the cheese sauce, not the powder kind. HINT: If you children are new to "additives" in their pasta and cheese dish puree the carrots and add when you add the cheese sauce. Gradually leave bigger and bigger chunks in the cheese sauce.

Top Review by Nif_H
When I first read this, I thought "I'll cook some chicken and some carrots instead of using canned". Then I realized that it would defeat the purpose of this recipe because it is meant to be a quick, one-dish meal. I made this as directed but could only find macaroni and cheese sauce instead of shells. I gave it 5 stars because of the convenience factor but I think that I would go ahead and cook my own chicken and carrots, just to make it healthier, for fresher flavours and to save money. Made for PRMR tag game. Thanks Nyteglori! :)
Prepare noodles as directed but do not add cheese yet. While noodles are cooking open can of carrots and chicken and place in bottom of colander.
Dump noodles on top of other ingredients in colander. By dumping the hot water on top of the other ingredients it heats those ingredients up. Do not rinse.
Dump all back in noodle pan and add cheese sauce mixing well. Serve immediately.