Pannetone French Toast With Coconut Milk
twissis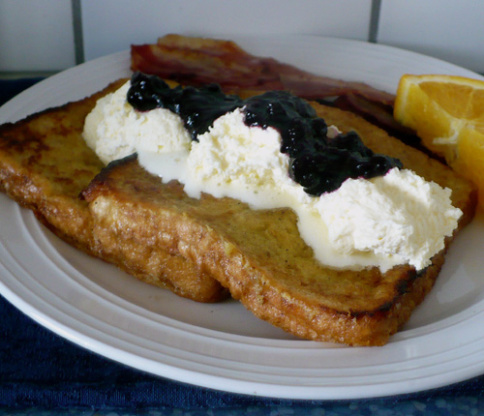 If you want a healthier version, use low-fat yogurt instead of the cream.

Made for the My 3 Chefs event, this was great use of the excess of coconut milk in my pantry from ZWT-9. It was an easy-fix & we loved the flavor of the Cardamom w/coconut milk. There were 3 of us for breakfast, I did use reg sandwich bread vs the suggested Pannetone & my yield served 3 w/2 pieces ea. The final presentation was a bit messy to photograph. In my haste, I forgot to dust the slices w/the powd sugar & just used whipped cream w/homemade blueberry jam. The moment the whipped cream touched the hot French Toast, it turned back to whipping cream as I snapped the pics. IMO the whipped cream is overkill anyway & I prefer the use of powd sugar w/a fruit of choice. Thx for posting this recipe for us. :-)
Put the coconut milk, eggs, sugar, vanilla seeds, and cardamom in a bowl and beat well. Pour into a shallow dish.
Over medium heat, heat half the butter into a large skillet.
Dip each slice of bread into the egg mixture and cook until golden brown on both sides.
Serve dusted with confectioner's sugar and topped with blueberries and cream.