Pannbiff Med Lok - Meat Patties With Onions
lazyme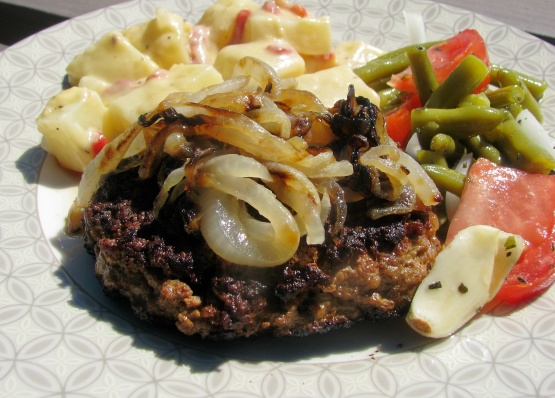 This is the Swedish version of hamburger steak with onions. Delicious as it is or you can add Swedish Cream Sauce (Graddsas) posted separately.

oh my holy cannoli. this is over the top insanely delicious!! I doubled the meat portion of the recipe, I used onion powder instead of onion, when round 1 was finished, I reserved the water (now broth) to use in round 2 as I cooked these 4 at a time in my cast iron skillet. Yes, the mixture was soft, but not unworkable. I make what we call salisbury steaks every so often but this method with the braise makes the patties so tender & wonderful. My picky one commented repeatedly on how perfect these were! I also made the Graddas sauce to go with it. I used 2 large Spanish onions. Thank you!! Made for ZWT9, Mike & the Appliance Killers. :)
Melt 2 tbsp butter in skillet over medium heat. Add sliced onions and saute until tender. Add sugar, and continue to saute until they are starting to carmelize (turn brown). Remove from pan and keep warm.
In the meantime, gently mix together the ground beef, breadcrumbs, egg, milk, allspice, ginger, grated onion, salt and pepper. Form into 4 patties.
Melt 2 tbsp butter in skillet over medium heat. Add patties and fry until brown. Flip the patties and brown the other side. Add the water, cover, and simmer for 15 - 20 minutes until cooked through.
Serve, topped with the onions and, if you like, the Swedish Cream Sauce, potatoes and pickles.