Panna Cotta With Blueberry Sauce
ducky007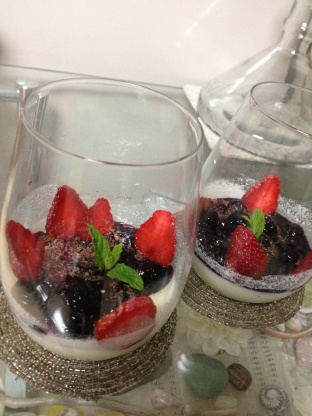 Soft melt in your mouth panna cotta, suitable for early summer. The use of yoghurt creates a light texture and causes the flavor of the blueberries to stand out. A gorgeous service in elegant glasses.
1) Soak the gelatin in cold water for 2-3 minutes.
2) In a saucepan combine cream, yoghurt, milk and vanilla beans. Stir continually on a low heat until just before boil.
3) Turn off the heat and add gelatin and amaretto liqueur.
4) Let mixture stand until cool and the pour into ramekins or glasses and put in fridge for 2hours to set.
5) To make blueberry sauce put blueberries and granulated sugar in a glass bowl and microwave for 2 minutes.
6) When panna cotta is firm but still jiggles remove from fridge and top with blueberry sauce. Garnish with sliced strawberries and mint leaves as you like.