skwiatk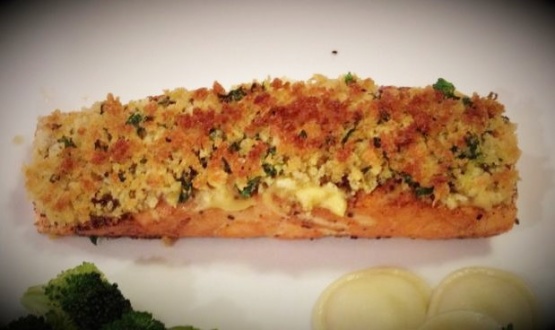 A simple recipe that is sure to impress. This recipe is written for individual fillets but it can easily be done with a whole salmon fillet. Simply cook the whole fillet how you normally would and add topping and broil at the end.

This is one of my favorite salmon recipes! I love the Dijon mustard myself, but for my family I go lighter with just a little bit of regular mustard.
Season salmon to taste with salt and pepper, as well as any other herbs you enjoy on your salmon.
Combine Dijon mustard, mayo, and garlic.
Heat 2 tablespoons olive oil in non stick sauté pan.
Toss bread crumbs with olive oil and mix in parsley.
Sear salmon 3 minutes on each side. (cooking time dependent on size of salmon fillet).
Spread mayo mix on top of salmon filet.
Press breadcrumbs into the mayo mix on the top of salmon.
Place salmon under broiler for roughly 3 minutes or until the breadcrumbs are golden brown.
Serve and enjoy!