Panko-Crusted Mustard Pork Cutlets
Kelly M.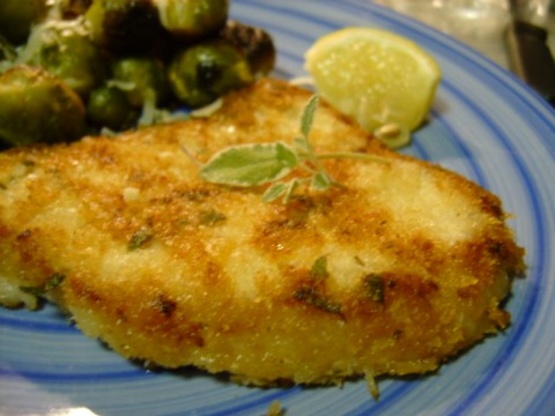 Panko breadcrumbs give these cutlets a nice, light, crisp crust. This recipe serves 2, but can easily be doubled. Originally from Bon Appetit.

Very good and simple. I made this for one using a boneless chop pounded thin. I did not use the egg, it definitely did not need it, and I squirted a little lemon juice at the end. I also added a tiny bit of salt. Great weeknight dish.
Combine first 4 ingredients on plate.
Whisk egg and 2 T water in medium bowl to blend.
Whisk mayonnaise and Dijon mustard in small bowl.
Dredge pork cutlets with mayo-mustard mixture; dip into beaten egg, then coat with panko crumb mixture.
Transfer to plate.
Heat oil in heavy medium skillet over med-high heat.
Add pork; cook until no longer pink on inside and crumbs are golden brown, about 5 minutes per side.
Garnish with fresh sage, if desired, and serve with lemon wedges.