Panko Crusted Chicken With Honey Mustard Sauce
LifeIsGood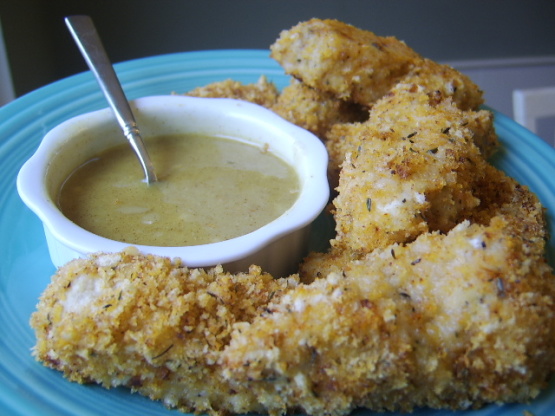 Looking for a quick and delicious recipe that will get you out of the kitchen in a matter of minutes and will make your family think you are a rock star? Give this crispy chicken a try. You can double the dipping sauce or not make it at all depending on your family's tastes.

I really appreciate the fact that this recipe is easy and quick to make; however, it didn't quite end up being what I hoped it would. I followed the recipe exactly, but used chicken tenders instead of thighs. My mom and I both thought the taste of the chicken was rather bland, and what taste there was wasn't too great. We think it was the smoked paprika taste that we didn't like too much. The honey mustard sauce was the saving grace for the chicken. Won't be making again, but it was good to have something different.
Preheat oven to 400 degrees. Spray a baking pan with non-stick cooking spray.
In a medium bowl, mix together Panko, paprika, thyme, garlic salt, and seasoning salt. Then stir in olive oil. (The oil allows the crumbs to get color in the oven).
In a separate medium bowl, beat the egg with the milk.
Roll each thigh in the egg wash and then into the seasoned Panko. Make sure to pat the crumbs onto the chicken to make an even coating and then place the thighs in the pan.
Bake at 400 for 35 - 45 minutes or until juices run clear.
Sauce: In a small bowl, mix the honey, spicy brown mustard, and mayonnaise. Serve this sauce on the side for those who like to dip their chicken.