Panipopo (Samoan Sweet Coconut Buns)
Coasty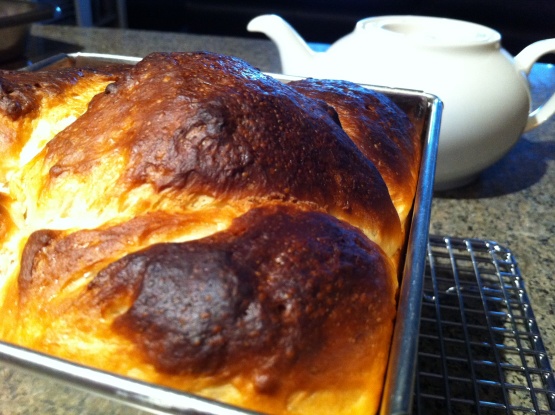 These delicious, soft buns are made even better with the addition of the sweet coconut sauce. They are so easy that even I made a perfect batch!!! These are usually served upside-down so the sauce ends up on the top. I got this recipe from Seta's "Panipopos' Kitchen". Enjoy!
I have a great story to go with these buns! I made the dough on sunday night, let it rise twice, shaped it into buns and put them in the fridge overnight. I was going to make the sauce and bake them off on Monday morning, but I ended up in labor at 2am monday so my mom had to finish them up on tuesday. Anyway, they turned out great despite all the excitment! I would recommend making a little extra of the sauce if you don't plan on eating them right after baking, they really soak it up overnight!
I used a stand mixer up to step 6. The instructions here are to do by hand.
Put the yeast and water in a large bowl and leave for 10 minutes.
Add all the rest of the ingredients and mix to form a soft dough.
Turn the dough out onto a lightly floured surface and knead for 10 to 20 minutes or until dough is smooth and elastic.
Place the dough in a lightly greased bowl, cover and leave to double in volume (optional step: punch down and leave to double in volume again).
Punch the dough down and turn out onto a lightly floured surface.
Shape the dough into 12 balls and place in an ungreased 9 by 13 baking pan. Pat down slightly (so they will sit upside down if you want to flip them to serve).
Cover and leave to rise until almost doubled.
while the buns are rising, preheat your oven to 190°c/375°f, and make your coconut sauce.
Coconut sauce:.
Combine all ingredients well.
When the buns have doubled in size, pour the sauce over them.
Bake for 20 to 25 minutes or until golden brown and the sauce is bubbling up around the edges.
Let them cool at least a half hour before cutting into them.
This gives the buns time to set up, and also gives the sauce a chance to thicken slightly.