Panini With Sautéed Mushrooms and Gruyère
IngridH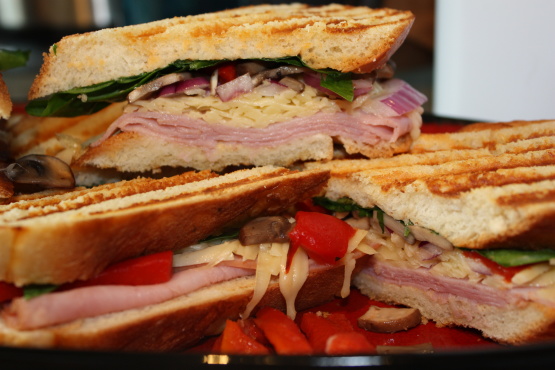 Yummy to take on a picnic, camping, or at home! Adapted from the AOL website.

Wonderfully delicious for a leisurely weekend brunch: I've been looking forward to having this all week and will certainly be making it again as I love all the ingredients and this is so easy to make. I added some minced garlic and thyme to my mushrooms and used sour dough bread, one of my favourites, and baby spinach leaves, another favourite ingredient. The gruyere was a perfect choice for the cheese! :) Thanks for sharing this now Zaar Super Star recipe, Sharon! Made for Gimme 5.
Heat butter in large nonstick skillet over medium-high heat. Add mushrooms and sauté 5-6 minutes.
Spread mustard on 4 slices of bread; layer each with 6 spinach leaves, 1 tablespoon red bell pepper, 1 tablespoon onion, 1/4 cup cheese, and 1/4 cup mushrooms. Top with the remaining bread.
Brush melted butter over both sides of each sandwich. If using a skillet, heat a large nonstick skillet over medium-high heat; place sandwiches in pan. Place another skillet on top of the sandwiches; cook 2-3 minutes on each side until golden brown and cheese is melted. If using a panini maker, brush sandwiches with butter; place in machine, close, and cook 2 minutes or until done.