gailanng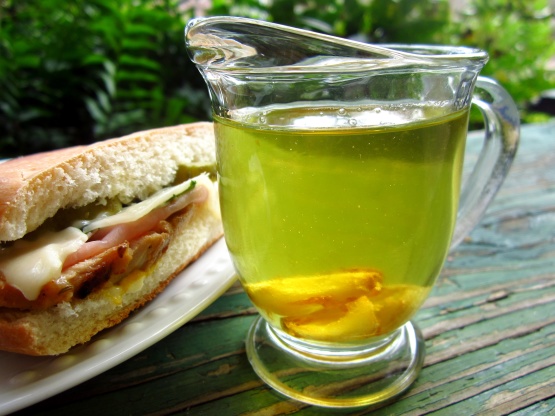 Super simple to make! We tested this against butter and good olive oil as what to paint on bread when grilling up paninis, and this infused oil was our favorite for both flavor and crispiness.
Warm the canola in a small, heavy-bottomed sauce pan over medium-low heat.
Smash the garlic cloves with the flat of a wide, heavy knife, the flat side of a tenderizing mallet, or any sturdy flat tool that you feel comfortable with. You want to flatten them somewhat (but not squirt garlicky bits all over the kitchen).
When the oil shows signs of slow movement (that lazy, swirly motion that happens long before the oil begins smoking), drop the garlic into the warm oil.
Watch and when the garlic shows signs of beginning to brown, pull off the heat and cover.
Let stand at room temperature until cooled completely. Strain to remove the solids.
Store the oil in an air-tight container in the refrigerator. It should keep for a couple of months if you don't use it all before then.
When using, brush (don't dip!) the outside surfaces of your bread when preparing paninis for grilling. You may wish to salt the outside after cooking depending on the type of panini or your personal taste.