Prep 10 mins
Cook 30 mins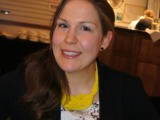 This is a sweet little Samoan recipe which translates in Samoan Pancakes. With the banana you could almost convince yourself they are healthy :)
Directions
Combine the flour, sugar, and baking powder in a bowl until thoroughly mixed, and stir in the bananas, vanilla extract, and water to make a smooth, sticky dough.
Heat oil in a deep-fryer or large saucepan to 350 degrees F (175 degrees C). The oil should be deep enough to completely cover the pani-kekes while frying, or at last 3 inches deep.
Scoop up a scant 1/4 cup of batter with a large spoon, and use another spoon to push it off into the oil. Fry in small batches of 4 or 5 until they float to the top and turn golden brown, about 3 minutes, then flip them to fry the other side. Remove from the fryer and let drain on paper towels.
Reviews
Most Helpful
What a treat! My young grandson ate three of them in no time. The texture was like a cake donut, and they were not as sweet as I expected (a good thing). I topped with a little powdered sugar for fun. Made for the ZWT7 for the Hot Pink Ladies.

Delicious, delicious, delicious. These pancakes were excellent Kristin. They are more like a fritter than a pancake, but it doesn't matter, what they are called, they are awesome. They are quick and very easy to make. The flavor was outstanding. Thank you for sharing a recipe that I will make again and again. Made for ZWT7 for Witchin Kitchen.