PaulaG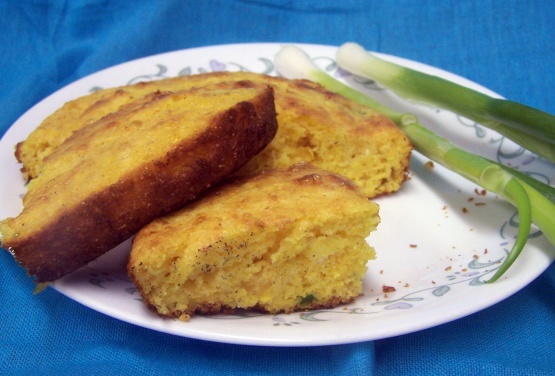 This is another of my adopted recipes. I have made this recipe for years. We always called it "Tex-Mex Cornbread". I cook mine in a large cast iron chicken fryer skillet which gives it a really nice crusty bottom. I then slice it in pie shaped wedges. It's very good served with chili or a hearty soup.

I was hoping I would like this since I cannot eat wheat and was looking forward to a gluten free cornbread recipe. I didn't have a cast iron pan but cooked them in large muffin tins. The piece I had was dry and flavorless. My husband's piece was "omlette-like" and not very good. I'm wondering if maybe I did something wrong.
Preheat the oven to 400 degrees F. and generously grease a 12 cup bundt or 9-inch tube pan; set aside.
In a large bowl, combine the cornmeal and baking powder.
Stir in the cheddar.
In a medium bowl, beat the eggs, oil, sour cream, corn and chiles together.
Add to the cornmeal mixture.
Stir until just moistened and then spoon the batter into the prepared pan.
Bake for 40 to 50 minutes in the preheated oven until a wooden pick inserted in the center comes out clean.
Cool on a rack for 10 minutes then invert over a serving plate.