Panfried Salmon, Garlic Mash and Green Beans
Linky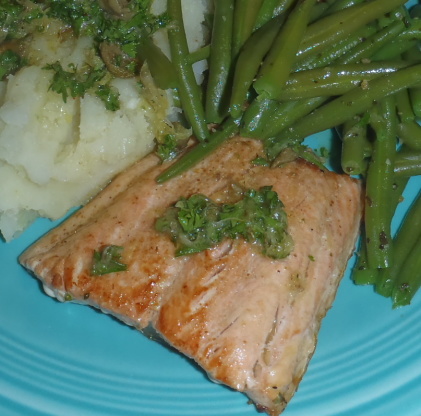 From a promotional magazine from Moro Oils.

Top Review by Linky
This was delicious! I don't make fish very often, so I found the directions a little confusing. Was I supposed to marinate the fish in the lemon juice/caper/olive oil/parsley/caper mixture? I didn't b/c I thought the lemon juice would splatter when I fried the fish. So I seasoned the salmon with seasoned salt and sauteed it in olive oil. But first I boiled and mashed the potatoes and garlic. In order to make them smooth, I added some chicken stock. That worked. I ended up drizzling the lemon/oil/parsley, etc stuff on the salmon, potatoes and beans on each serving. I used about half the lemon juice called for and it was almost too lemony. But, now I'll know what to do next time b/c it was sooooo good! Thanks, Pat! Made for Aussie/NZ Reunion 2011
For Salmon - combine extra virgin olive oil together with lemon rind, juice, capers and season to taste.
Season salmon fillets and panfry in hot pure olive oil for 2 minutes on each side until golden on the outside but still slightly pink in the centre.
Dress beans with extra virgin olive oil and season to taste.
Garlic Mash - Cut potatoes into chunks and bring to the boil in a large saucepan of salted water.
Add garlic cloves and boil for 20 to 30 minutes or until very tender.
Drain and mash potatoes and garlic together until smooth.
Slowly mix in extra virgin olive oil and season to taste.
Serve Panfried Salmon on Garlic Mash drizzled with Caper and Lemon Oil and accompanied with beans.