Panfried Brussels Sprouts With a New Flavour
teresas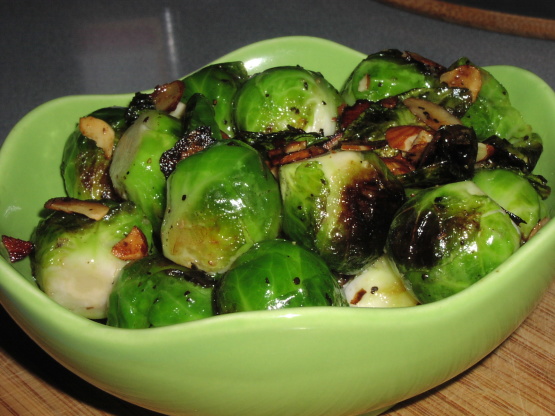 Well, on Zaar we have done lots and lots of interesting things with brussels sprouts, to improve the popularity of the nutritious little green balls! Here is yet another quick and easy variation. (About liquor: even if you don't serve liquor in your house, but have no other objection, it's worth keeping bottles of sherry, brandy, port, vermouth, liqueurs and wines tucked away on a pantry shelf! Comes in so handy in cooking, and remember, the alcohol burns away. Buy one type per month to spread the expense, until you have a little hoard just for cooking. They last for years!)

When the hubby gives Brussels sprouts a big thumbs up...you know you have a winner...I prepared mine with the almonds and the dry vermouth...they came out nice and tender with a bite to them...oh...I did locate the flaky sea salt...at...$29.99 a pound...I got $2.70 worth...but...I didn't notice any thing special...so don't waste your time and money locating the special sea salt...thanks for posting it...Made for Fall PAC 2012
In a large frying pan, heat the oil over high heat.
Add the sprouts and shake pan a little. Season sprouts with salt and pepper.
Stirfry for 3 minutes, then add the caraway seeds (or flaked almonds). Shake pan, and stir often, until sprouts start to char on the outside. Add more oil if necessary.
Now add the vermouth or brandy to the pan. Stir well, cook for another minute or so, and they're done.
Serve hot, as soon as possible.