Panera's Cream Cheese Potato Soup
Axe1678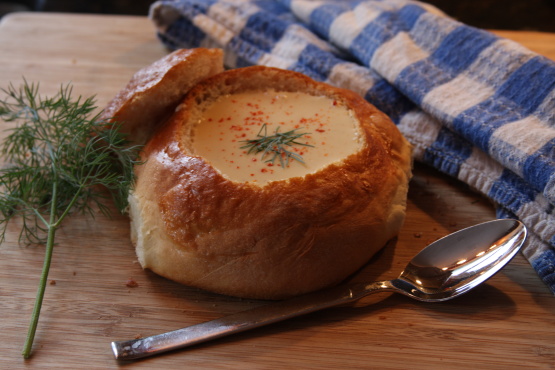 This is my favorite recipe for potato soup. It's a copycat of the one they use to serve at the St. Louis Bread Company (Panera). The recipe originally called for shredding your potatoes, but I never could get them to cook that way. I know they should cook faster, but I never could get it to work.

My family loves this soup. There are a few things I done different that made it taste richer. Instead of cooking the potatoes on the stove top, (I think this maks them watery) I baked them in the microwave with the skin on. I let them cool down and then peel them and cut them into chuncks. They stay together much better, and they have a much better taste to them. If you are using red potatoes, which I prefer, leave the skin on them. I also saute my onions and garlic in a pan with butter really slow so they don't brown. I put the chicken broth in the pot first, then the onions and butter. I let the cream cheese get to room temp, and then use my wire strainer to mash the cream cheese through it with the back of a spoon. It dissolves much easier. After the soup comes to a slow boil, I add the potatoes and turn in down on simmer for a while. When I serve it, I put crispy bacon cumbles on top along with cheddar cheese and green onions. I also think it is good with a dollop of sour cream. Bake a pan of corn bread, and you have the most delicious meal you could ever eat. I use one cream cheese to one carton of chicken broth. I have to double or triple this recipe......Yuuuuuum
Combine broth, potatoes, and spices.
Boil on medium heat until potatoes are tender.
Smash a few of the potatoes to release their starch for thickening.
Reduce to low heat.
Add cream cheese.
Heat, stirring frequently, until cheese melts.