Panera Bread's Spinach Artichoke Baked Egg Souffle ByTodd Wilbur
hitechteacup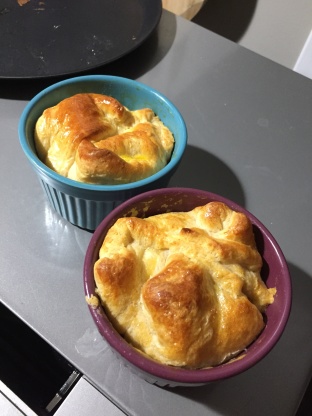 From www.TopSecretRecipes.com Panera Bread's Baked Egg Souffles are delicious little gourmet Hot Pockets. Encased in buttery crescent dough is this top secret version of the egg, cheese, spinach and artichoke filling for a nice morning munchie that will impress everyone. And they're easier to make than they look, since we use pre-made Pillsbury Crescent dough. Just make sure when you unroll the dough that you don't separate it into triangles. Instead you'll pinch the dough together along the diagonal perforations to make four rectangles. When the dough is rolled out, you can line four buttered ramekins with it, and then fill each one with the secret egg mixture. This recipe clones the spinach artichoke souffle, but if you're a fan of the spinach and bacon version, check out the Tidbits below for that easy variation.
This is hands down the best soufflé recipe ice ever encountered. Not only did it relieve me from the elaborate process and frustration of making bechamel sauce (some recipes online don't have the right proportions of milk, butter, and flour), but it tasted so good- and it's pretty straightforward. The crescent rolls are a clever idea! I uses them in a muffin tin and they work sooo much better than puff's pastry dough sheets which I tried to bake soufflé with before. I can't wait to share this with my boyfriend.
Preheat oven to 375 degrees F.
Combine spinach, artichoke hearts, onion, and red bell pepper in a small bowl. Add 2 tablespoons of water, cover bowl with plastic wrap and poke a few holes in the plastic. Microwave on high for 3 minutes.
Beat 4 eggs. Mix in milk, cream, cheddar cheese, Jack cheese, Parmesan, and salt. Stir in spinach, artichoke, onion, and bell pepper.
Microwave egg mixture for 30 seconds on high, and then stir it. Do this 4 to 5 more times or until you have a very runny scrambled egg mixture. This process will tighten up the eggs enough so that the dough won't sink into the eggs when it's folded over.
Unroll and separate the crescent dough into four rectangles. In other words, don't tear the dough along the perforations that make triangles. Instead, pinch the dough together along those diagonal perforations so that you have four rectangles. Use some flour on the dough and roll across the width of the rectangle with a rolling pin so that each piece of dough stretches out into a square that is approximately 6 inches by 6 inches.
Brush melted butter inside four 4-inch baking dishes or ramekins. Line each ramekin with the dough, then spoon equal amounts of egg mixture into each ramekin. Sprinkle 1 tablespoon of asiago cheese on top of the egg mixture in each ramekin, and then gently fold the dough over the mixture.
Beat the last egg in a small bowl, then brush beaten egg over the top of the dough in each ramekin.
Bake for 25 to 30 minutes or until dough is brown. Remove from oven and cool for 5 minutes, then carefully remove the soufflés from each ramekin and serve hot.
*Serves 4.
Tidbits: You can make the spinach and bacon version of this dish by substituting 4 pieces of cooked and crumbled bacon for the artichoke hearts. Simply leave the artichoke out of the recipe above, and then add the bacon to the egg mixture before you microwave it.
If you'd like to make bigger souffles, double up on all the filling ingredients, and bake the souffles in 6-inch ramekins. You will also have to extend the baking time by 5 minutes.
Originally from: http://abcnews.go.com/GMA/Recipes/story?id=4310959&page=1.