(Panera Bread) Black Bean Soup
iamafoodblog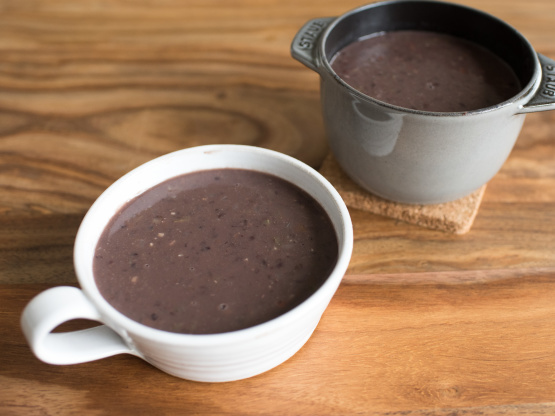 This is my own version of Panera Bread's black bean soup. It tastes a lot like it, and I love it! Use vegetable stock to make it vegetarian.

This soup is great but the Panera Black Bean soup is vegetarian, so to get the exact flavor of Panera's I suggest using only vegetable stock. Also, Panera's soup has cilantro and tomatoes in it. I added a 16 ounce container of fresh mild salsa from the produce department (Jacks Special) and pureed it with the beans, stock and veggies. Now it tastes exactly like Panera's. No need to add lemon juice or cilantro because it is in the salsa. Yummy
In a pot, combine the first six ingredients; simmer for 10 minutes.
Add half a can of beans, salt and cumin; cook for 5 minutes.
Puree soup (I use an immersion blender which makes it easy to do it right in the pot).
Add the rest of the beans to the soup.
Combine the cornstarch with 1 1/2 tablespoons of water.
Add the lemon and the cornstarch to the soup; cook until thickened.