Pandan Soft Chiffon Cake - Asian Screwpine Cake.
Um Safia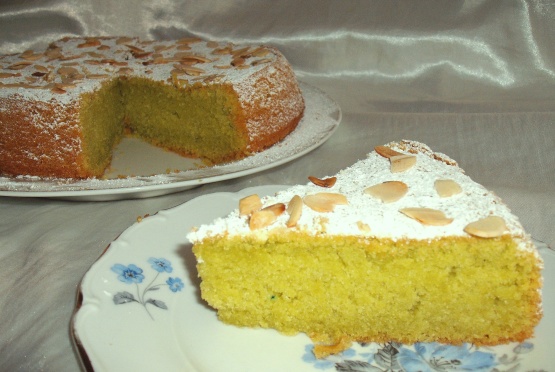 A beautiful cake using Pandan extract - this gives it an unusual colour as well as taste. Note: I like to bake this in an 8" round tin @ 180 C for 50 minutes then allow the cake to cool in the oven (turned off!). To decorate, I dust with icing sugar & sprinkle with toasted sliced almonds.

Try adding 1 tablespoon of pandan essence ( get the 'butterfly brand' from Indonesia ) as well as the pandan extract for a more fragrant cake. That will also give it the traditional green colour. Very delicious cake indeed. Thank you for posting.
Sift flour in a bowl. Add in egg yolk, baking powder, oil, coconut milk, salt and pandan paste. Stir well. Set aside.
In another large mixing bowl, beat egg white and cream of tartar till fluffy. Add in sugar, little by little.
Beat for 10 minutes, at high speed, till thick and creamy. Fold flour mixture into the eggs.
Pour into a 25cm / 10" ungreased tube pan. Bake in oven at 175°C for 45-55 minutes or till cooked - do toothpick test). Take out and turn over. Cool on a wire rack.