Panda Express Orange Chicken
karensling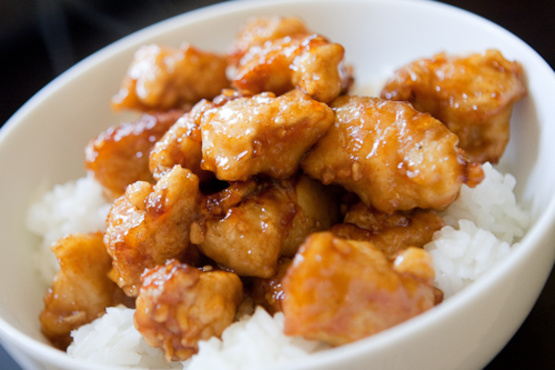 A copycat recipe from Panda Express. This chicken is tangy and flavorful. Give it a try! I'm sure you and your family will enjoy it.

I have mixed feelings about this recipe....the instructions are horrible for the first part......I made as posted and the flour/egg mix just clumped up. Made lumpy bumps that had to be spread over the chicken. The chicken should be dipped in the egg mixture, then tossed in the cornstarch mix. It would save a lot of work. I loved the sauce, and agree with other posters that it should be doubled....it is sooo good! For a beginner cook, I'm afraid this would be so confusing that they would give up, which isn't good. This recipe is good and deserves a chance, but the instructions are so confusing that many will not make this recipe. I can't compare this to Panda Express, as I've never had it. But the sauce is delicious if you can figure out how to make the first part of the recipe!! I enjoyed this, but the instructions just aren't clear enough.I would dip in the egg first and then the cornstarch/flour mix. Really enjoyed the finished product! Thanks for sharing a delicious recipe.
Place chicken pieces in a large bowl, set aside.
In a medium bowl, stir egg, salt, pepper and 1 tablespoon oil and mix well, set aside.
In a medium bowl, stir together 1/2 cup of the cornstarch and the flour.
Heat oil for deep-frying in wok or deep-fryer to 375 degrees.
Dip chicken pieces into egg mixture, then into the flour mixture, shaking off any excess.
Add chicken to wok in small batches and fry for 3 to 4 minutes or until golden brown.
(Do not overcook chicken).
Remove chicken from oil with slotted spoon and drain on paper towels; set aside.
FOR THE SAUCE:.
In a small bowl, combine the soy sauce, orange juice, brown sugar and orange zest. Set aside.
Clean wok and heat 15 seconds over high heat.
Add 1 tablespoon oil, the gingerroot, garlic, crushed red chili pepper flakes and green onions and stir-fry for just a few seconds until fragrant.
Now, add the rice wine and the soy sauce mixture you set aside above.
Add cooked chicken, stirring until well mixed.
In a small bowl, stir together the water and cornstarch, then add it to the wok and stir until sauce has thickened. Add sesame oil if desired.
Serve over jasmine rice.