Pancakes With Vanilla Banana (Using an Egg Replacer)
Thorsten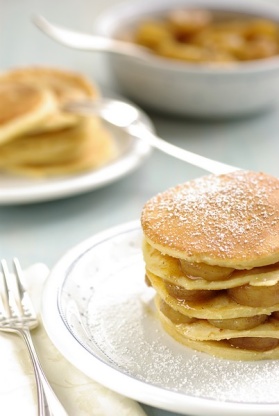 I don't like eggs and I always use an egg substitute unless I'm not having the recipe. If you want to try the recipe with egg just don't use the tablespoon of water. The idea for the banana topping came from BBQ Bananas and the idea for the pancake came from the leaflet in the box of Egg-Like 'The Egg Replacer'

The pancakes are easy to make. I wouuld suggest to let stand the dough for 10 minutes before you bake the pancakes. This will give the flour time to swell. I made small pancakes. The vanilla banana topping was great. Because I didn't have enough vanilla essence, I cut down the amount to about 3 tablespoons and it was great that way. I asembled the five pancakes with a layer of bananas in between. For serving I dusted the stacks with caster sugar and served more bananas on side in a little bowl, so that everyone could add more. For a 2nd serving I served the pancakes on a plate on the side. The dessert is great. The sweetness of the banana goes well together with the fluffy texture of the pancakes. Thanks for sharing a wonderful dessert.
Peel and slice bananas, place them in a small casserole dish, pour over vanilla essence, brown sugar, orange juice, chopped butter and sprinkle cinnamon. Cover to not allow any steam to escape and place it under the griller for 10 minutes.
While the topping is cooking mix egg replacer with water until completely combined. Then add in milk, flour and oil and stir until batter is smooth. I use a hand wand/blender.
Use a non-stick fry pan or pancake pan, spray cooking oil, heat.
Place small amount or large amount of batter pancake into pan. fry, flip over when brown and fry second side.
To serve:.
Large pancake place the pancake in the middle of a plate, and spread some vanilla banana in the middle and roll the pancake, cut it half, drizzle over the vanilla banana juices and if your using ice cream, scope and serve it on top.
Small pancake layer each pancake on top of each other, spread some vanilla banana on top, if your using ice cream, scope and serve it on top and drizzle over the vanilla vanana juices.
Serve immediately.