Pancakes (Clone of Pancake Parlour)
ImPat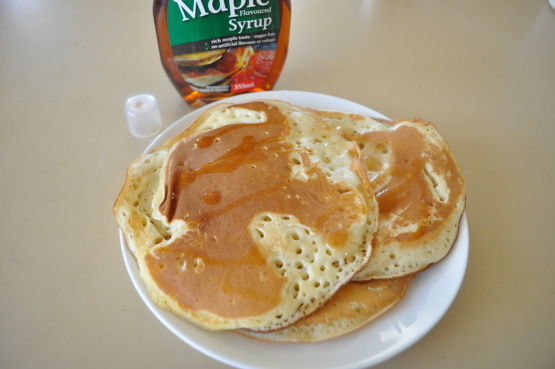 I got this recipe from a friend (Helen) whose roommate used to work at the Pancake Parlour. They are wonderful and can be eaten as a savoury dish or as a dessert.

Top Review by ImPat
I made as per recipe but the when I cooked the first pancake it was so thick (maybe my eggs were smaller or just the consistency of the flour I was using that caused this), that I couldn't cook it through without burning it so I added another 1/4 cup of milk which was just enough to thin it out so I still got good size pancakes and not crepes, I would also add a touch of vanilla in next time. I got 14 bread and butter plate size pancakes out of the mix which we enjoyed with sugar free maple syrup (me), the DM enjoyed with a vanilla yoghurt, the DS with some jam and cream and the DH with a sprinkle of sugar and drizzle of lemon juice. Thank you Perfectionist cook, made for Aussie/Kiwi recipe swap #50 March 2011.
Beat eggs and then add baking powder, sugar, salt and milk. You can use a hand-held mixer if you wish.
Then add flour all at once and mix with a WOODEN SPOON only until batter is fairly smooth.
Set aside until you see small bubbles forming on top of the dough.
Heat a frying pan with a light coating of oil and test temperature by dropping a teaspoon of batter into the centre of the pan. When it turns golden brown the temperature is right.
Add a ladle full of batter in the centre of the pan and cook until bubbles appear, then flip and cook other side until golden brown.
Keep warm and serve with warmed maple syrup or honey and ice-cream.
You can also serve this with grated cheese and ham, which you place over the pancake while the second side is cooking until it melts. (It's fabulous).