Hanka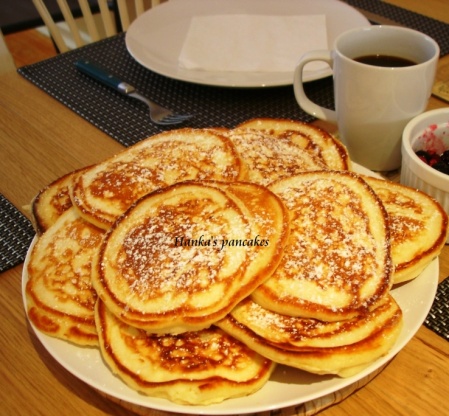 I am well known for my pancakes so I am posting the recipe for others to enjoy them. They are so easy to make from scratch forget about premix! I make these every week for many years and it is still our favorite breakfast that we are looking forward to it! We like them with raspberries and blueberries.

Top Review by Tisme
Hanka, this is a brilliant recipe!
I followed as written and had great success with making these pancakes.
So quick and easy to make and so light and fluffy inside. I enjoyed mine with plum jelly and cream, DH had lemon and sugar and DS with honey and cream. We all loved them.
These are just magnificent Hanka. Thank you so much for sharing your recipe.
This is the perfect recipe for anyone that has trouble making pancakes.
I am keeping this one!
In medium bowl mix flour and sugar.
Combine milk, egg and oil together.
Add this wet mix to flour mixture.
Stir with whisk until combine but don't over mix few lumps is ok.
Spoon pancake batter on lightly oiled and preheated pan (no need to spread the mix) and cook on medium heat on both sides until golden brown.
Serve with your favorite syrup and fruits.