TEJx3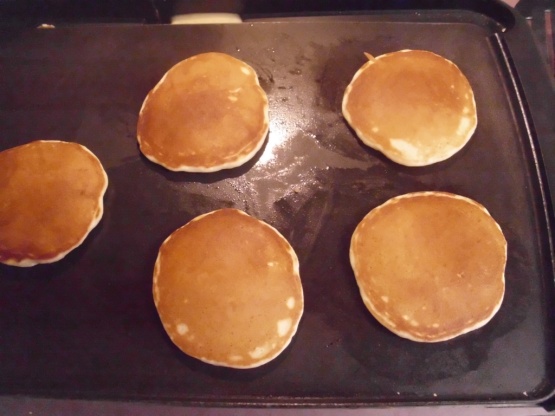 When I was pregnant, I decided to create the "perfect pancake recipe." Every Saturday morning, I would fiddle with the recipe, until I developed this one. My son is now 18 and HE makes the pancakes on Saturdays mornings.

Unlike my family I am not a huge pancake fan, I usually prefer salty to sweet, but these were very good. I did cut the sugar down to 1/3 cup and they were perfect. (17)
Sift together the dry ingredients.
In a separate bowl, mix the milk, vanilla, melted butter and egg.
Slowly blend the liquid ingredients with the dry, just until all ingredients are moist. Do NOT overstir!
Allow batter to rest for five minutes.
For prettiest results, cook pancakes on 325' griddle.
NOTE: Added 9/6/2008: After reading a couple of reviews that had their pancakes turn out "crepe-like," I realized that I had left out one important caveat from the original recipe: THE BAKING POWDER MUST BE FRESH! For a number of years, I puzzled over why sometimes this recipe turned out beautifully fluffy pancakes. .and other times they just lay on the griddle, thin and disappointing.
I finally figured out that it was determined by the age of the baking powder I was using. (I had two canisters in my cabinet. one week the pancakes turned out wonderful. the next thin and flat. finally the little light came on in my head.so, some of us are slower than others!) So, if your baking powder is older than a year, you may very well end up with crepes. newer than that, you should be good!
IMPORTANT: I mistyped the original recipe to show 1/2 cup sugar - that was wrong! :) It should be 1/4 cup sugar. Even if you double the recipe, the sugar only goes up to about 1/3 cup.