Baby Kato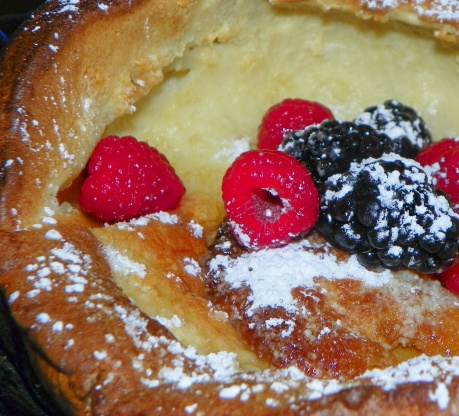 This is a super simple oven 'pancake' that goes together quickly! You may use your favorite toppings (i.e. syrup, fruits, jams or jellies, honey, butter) to dress this up however you like!

Made this for lunch today....the kids were a little hesitant to try it because when I first took it out of the oven it was so puffy. After it settled a bit though they gave it a shot. We topped some of it with real maple syrup and some with a spiced sugar blend. Even with all of the butter used I had trouble with this sticking to the bottom of my pan. This was so much simpler then standing at the griddle flipping pancakes though, so I will definitely make it again. Made for 2011 Spring PAC.
Preheat oven to 425º.
Place butter in bottom of 9X13 baking dish and melt in oven, while preheating.
Place eggs in blender and beat on high.
Add flour, milk and vanilla; mix together for 30 seconds.
Pour mixture into dish with melted butter.
Bake for 20 minutes.