Pan Steaks With Garlic-Mustard Sauce
lazyme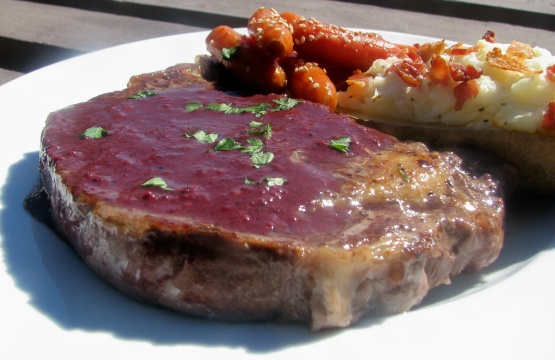 A great, easy recipe to make pans steaks with a yummy sauce. This is definitely good enough for company!

This is a real winner ! The flavors blend superbly, not overly garlic-y or mustardy-y to our tastes, just richly flavored. Husband loved it, and he knows his sauces. I envision this becoming one of my standards. Thanks, Evelyn, for this gem!
Season steaks on both sides with salt.
Rub pepper into both sides of each steak.
Divide oil between 2 large skillets and heat over medium-high heat.
Add 3 steaks to each skillet and cook to desired doneness, about 3 ½ minutes per side for medium-rare.
Transfer to a platter.
Tent with foil to keep warm.
Divide garlic between skillets; saute 30 seconds.
Divide wine between skillets; boil until reduced by half, stirring up any browned bits, about 1 minute.
Combine contents of skillets in 1 skillet.
Add broth and mustard and whisk until blended.
Boil until slightly thickened, about 2 minutes.
Remove skillet from heat.
Add butter, one piece at a time, whisking each until melted before incorporating the next (make sure you do this OFF the heat).
Season with salt and pepper.
Spoon sauce over steaks.
Top with parsley.