Pan-Seared Steaks With Honey-Mustard Pan Juice
Prep 15 mins
Cook 15 mins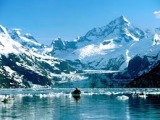 Bobby Flay is the king of grilling, but here he utilizes the pan-searing method with delicious results. His recipe calls for Porterhouse steaks but you could probably use any good quality, thick steak. The pan juice is flavorful and a nice complement to steak. Be sure to use a nonreactive pan, such as stainless steel or enamel-coated cast iron. Uncoated cast iron or aluminum pans could react to the acids and cause changes in flavor. I hope you enjoy this easy and tasty steak recipe.
Marinade ingredients

2 shallots, finely chopped
1 1⁄2 cups chicken stock (homemade or low-sodium canned)
2 tablespoons fresh lemon juice
2 tablespoons Dijon mustard
1 tablespoon honey
1⁄4 cup parsley, coarsely chopped
kosher salt & freshly ground black pepper, to taste

Steak ingredients

4 tablespoons extra virgin olive oil (you may use more or less, this is a guideline)
4 porterhouse steaks, about 22 ounces each (or T-Bone. Any good quality, thick, tender steak)
kosher salt & freshly ground black pepper, to taste
Directions
First, make sure you have all the ingredients for the honey-mustard pan juice measured out and ready to go, since you will need to make that quickly after taking your steaks out of the pan.
Season the steaks with salt and pepper.
Heat the oil in a large nonreative skillet, until almost smoking.
Cook the seasoned steaks until golden brown on one side, 3-4 minutes.
Turn over and continue cooking 4-5 minutes for medium rare. Your choice as to how you like your steaks done - adjust timing accordingly. *If your pan isn't big enough, you may need to cook your steak in batches. Don't overcrowd your pan.*.
Pour all but 1 tablespoon of oil from the pan, add the shallots and cook until soft, 2-3 minutes.
Add the stock and lemon juice and cook, stirring and scraping up the bits of meat stuck to the bottom of the pan, until reduced to about 1 cup.
Whisk in the mustard and honey and cook for another 2 minutes.
Add the parsley and season with salt and pepper.
Place steaks on a platter and drizzle with the sauce!
Reviews
Most Helpful
Delish! I used rib eyes and loved the sauce on them. My grandson claims that he doesn't care for Dijon, but he sure devoured this. lol. Thanks Kathy for a nice keeper. Mad for ZWT8 France.

OMG - this was so good! Made this for ZWT8 - France and it was amazing. I did as suggested and had everything prepped and ready - it made for a real easy time putting it together at the end. Unlike another reviewer, mine came out a bit on the mustardy side. The next time, will probably use a bit more honey. I served this with some other ZWT offerings, including Carrots Vichy Glazed Carrots (Carottes Vichy), and Classic Vinaigrette Classic Vinaigrette Salad Dressing. Yum!!! Thanks, Life is Good!

I used filet mignon, and mine was about an inch and a half thick, 2 inches before cooking started. Cooking time was dead on. I enjoyed the sauce, but think I'll reduce the honey a bit next time. It was a bit sweet for me, plus I just love dijon mustard! Great way to prepare a steak indoors.