gailanng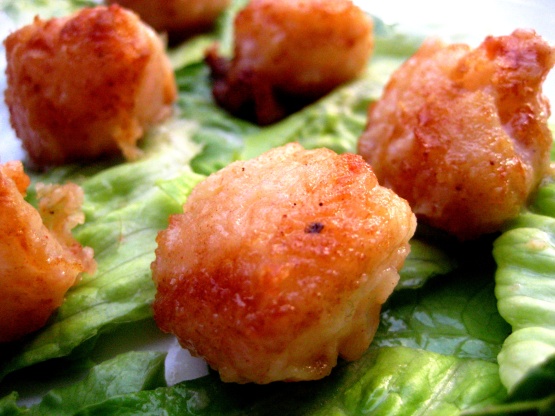 A simple yet incredible way to prepare sea scallops. You won't be disappointed!

I knew that these would be a hit with DH, so I doubled the recipe. Unfortunately, I overcrowded the pan in doing so (too impatient to cook in 2 batches), so they didn't get as much sear as I would've liked, so I didn't bother taking a photo. Totally my fault, and the flavor was still great even if the appearance wasn't as nice as I'd hoped. I served these with Recipe#389471 and Recipe#398262, and DH and I had a lovely seafood night. Thanks for posting! Made for PAC Fall '12
Start with fresh sea scallops, as large as you can buy. If you buy them frozen, defrost before preparing the recipe.
Preheat oven to 450 degrees.
Heat olive oil in pan over medium heat. Rinse scallops with cold water, pat dry with paper towels.
Pour pan searing flour into quart size plastic bag; coat scallops one by one with flour shaking off excess.
Add scallops to pan; when scallops appear brown paper bag color 1/4 up flip with tongs.
Add butter and spoon butter over scallops as "crusting" occurs.
Transfer scallops and butter oil mixture to oven safe dish and place in oven for 7- 10 minutes and enjoy!