Pan-Seared Scallops With Spinach
KateL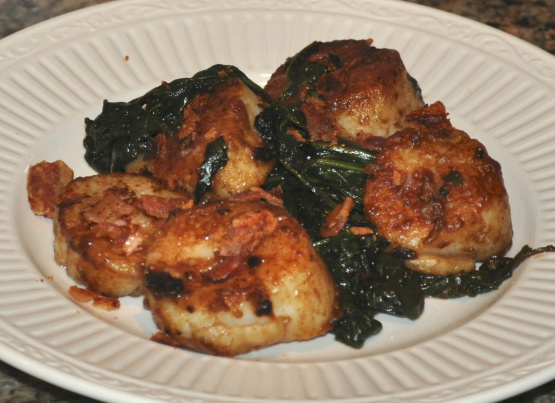 From Country Home Magazine - what a lovely seafood dish!

Top Review by KateL
Better than restaurant quality, I had to promise DH to make this once a month. I used never frozen "large" sea scallops, but not "colossal" size. The searing times were perfect; I had purchased 1 1/2 pounds of sea scallops, and only 1 pound fit my 12" deep dish frying pan at one time. I kept the first batch warm in the oven at its lowest setting, and had to add more bacon grease to the pan. I used 5 ounces of fresh spinach, because it looked like enough for just 2 of us, and it was expensive. Even so, the spinach appeared to fill the 2-3" tall frying pan, so I would use my tall-sided Le Creuset pot if I were making more spinach (and that pot would probably accept 1 1/2 pounds of scallops at one time). I used Tony Chacere's Creole seasoning, and I liked its subtle presence in this dish. The only improvement I might suggest would be to chill the dredged scallops for 30 minutes to 1 hour prior to searing. As always, the secret to searing is to make sure the pan and the fat are hot enough to sear, and it is important not to turn the scallops until they are ready; some say that if the "meat" sticks, and does not release, you need to wait until it does. The spinach was not so pretty on the plate, so I would be tempted to steam it separately; DH wouldn't change a thing. At the end, I had leftover bacon bits even though I sprinkled them liberally. Served with a sourdough roll. Made for Please Review My Recipe tag game.
In a large skillet cook bacon until crisp. Remove from pan and drain well on paper towels. Remove all but 1 tablespoon drippings from skillet.
Rinse scallops and pat dry. Combine flour and cajun seasoning; add scallops and toss to coat.
Cook scallops in hot drippings in skillet about 6 minutes or until browned, turning once.
Remove scallops from skillet. Deglaze skillet with white wine.
Add spinach to liquid in skillet. Cover and cook over medium-high heat for 2 minutes or until spinach is wilted. Add vinegar and toss to coat evenly.
Return scallops to skillet and heat through. Crumble bacon and sprinkle over scallops.