GaylaJ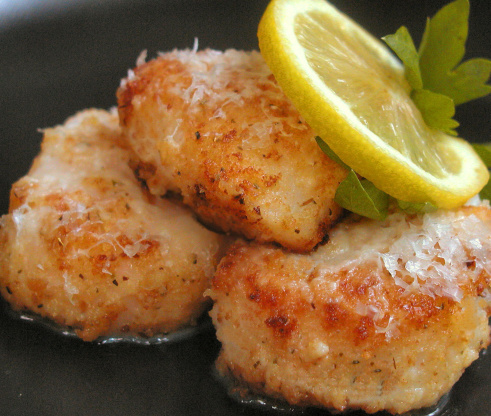 Very simple preparation that preserves the delicate, sweet flavor of the scallops. I didn't have Romano on hand, so I used Parmigiano-Reggiano and just grated it directly over the scallops in the skillet.

This recipe is a keeper. Great pairing of flavors. I normally do not use breading, but this breading did not overpower the fresh flavor of the scallops and the result was light and crispy. I dipped the scallops into the lemon juice before breading after reading other reviews. I did use Panko crumbs which worked well. After removing the scallops from the pan, I added a little butter and about 1/2 cup of white wine along with pepper and just a bit of half and half for a delicious sauce. I ladled the sauce on top of angel hair pasta and added the hot scallops. I serve with a spinach salad. It is easy to over cook scallops so 1 1/2 minutes on each side is perfect.
Roll scallops in bread crumbs.
Put olive oil and butter in a large skillet; stir and heat until hot.
Add scallops, turning once, until browned on both sides (3-4 minutes); remove from heat.
Halve lemon and gently squeeze juice over scallops, then sprinkle with cheese.
Cover with a lid and let steep for 5 minutes to allow the flavors to mingle.