Pan Seared Pork Chops With Glazed Carrots
Prep 10 mins
Cook 20 mins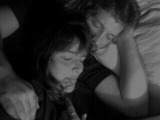 These chops are nice and tangy. You could also try this with NY Strip, mouth watering Ribeye, or T-Bone steak. A special thanks to our Zaar friend PaulaG for her help with revising the recipe. :) A great way to ensure tender and moist chops is to soak them in a brine of 1 cup milk to 1/2 Tbs salt for at least 1 hour before using in a recipe.
Directions
Preheat oven to 425°F Dredge the pork chops (or steaks) in the spices (except oil). Let them sit for about 30 minutes to absorb the flavor of the spices.
Heat frying pan (that is oven safe) over medium high heat with the oil. Place the chops/steaks into the heated pan and sear until golden brown (about 5 minutes each side).
Cut carrots into thin slices and toss them in a bowl with the thyme, olive oil, salt and pepper. Add the carrots to the saute pan with the pork chops.
Place the saute pan into the oven for about 10 minutes or until chops are cooked thru.
Remove the chops/steaks from the pan onto serving plates, and leaving the carrots, deglaze the pan with the orange juice.
Place carrots atop the chops and drizzle with glaze.
Most Helpful
I only made the pork exactly as the recipe said and it tasted great. Very subtle taste, pairs nicely with most sides. Would make this again. It's an easy go-to type meal. Thanks

Everyone in my house loved this and that NEVER happens! From 39 to 1.5 years old it was a winner!
This is a delightful way to change up the boring old pork chop! Super easy recipe, and great taste. Even my picky teenager liked this! Thx 2Bleu, I will definitely make this again.