Pan Seared Fish With Raspberry Vinaigrette
Thorsten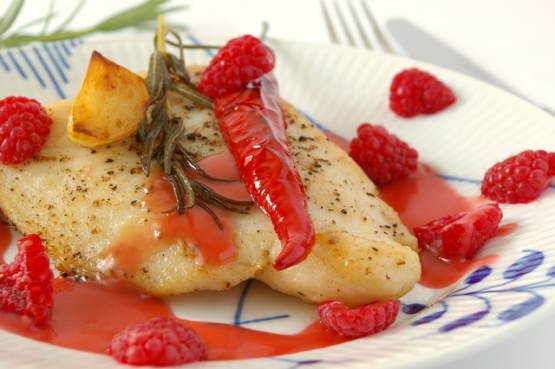 A light and easy to make summer fish recipe. You can use any white and firm fish fillets (e.g. cat fish, swordfish). This dish is made by a wonderful cold and fruity raspberry vinaigrette. Your guests will be surprised by this combination of fruity, spicy notes and fish flavours. Serve with a green salad and white bread.
Make the vinaigrette: mash the raspberries with a fork and mix with red wine vinegar. Let stand for 30 minutes.
Then strain through a sieve to remove raspberry seeds.
Add the rest of the ingredients for the vinaigrette and whisk to make the vinaigrette.
Salt and pepper the fish fillets to taste.
Heat olive oil in pan on medium high heat and add rosemary, chili and garlic to flavour the oil. Remove rosemary, chili and garlic when slightly browned.
Sear fish fillets in pan in the flavoured oil on both sides until done or fish flake easily. Time for searing depends on thickness of your fillets and type of fish you use.
Arrange fillets on plates, add rosmary, chili and garlic.
Add raspberry vinaigrette and decorate with fresh raspberries. Serve with white bread and a green salad.