Pan Sauteed Potatoes & Green Beans
KateL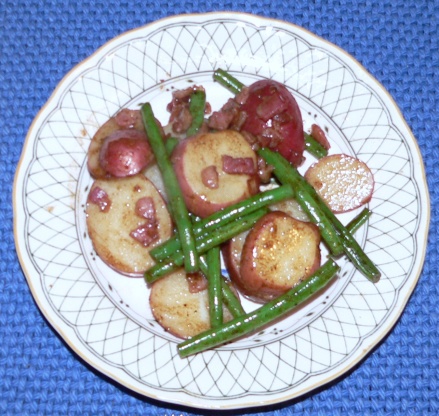 A simple yet delicious side that can be served with anything from grilled burgers on through Steak Au Pouve

Top Review by KateL
5 Stars! I dare you to say you still hate vegetables with this dish! This was perfection: the comfort of bacon, the sass of balsamic vinegar, the crunch of fresh green beans, the mood elevation from sauteed sliced potatoes. DH loved this by itself, but thought I was a genius to serve Recipe #223198 as an optional garnish (the slight balsamic sweetness downplayed the outright heat of the pecans and reached a harmonious medium). I was so excited by this recipe I forgot to pick up a rotisserie chicken, so we opened a 15-1/2 oz. can of chicken and mixed it in, too -- contentment at our dinner table, let the veggies shine! Tony is my "go-to" guy for sexy vegetables! Made for Zaar Chefs Alphabet Soup Tag Feb '08-Jan '09.
Lightly scrub potatoes.
Cut bacon into a small dice and brown in skillet on medium-low heat. Do not cook to a full crisp.
While bacon is cooking, slice potatoes into small rounds about 1/4 inch think.
When bacon is done remove with slotted spoon. Drain skillet of all but 1 tsp bacon fat. Add oil and increase heat to medium-high.
Add potatoes and toss to coat. Saute while tossing occasionally until potatoes are slightly cooked. Approximately 5 minutes.
Add fresh beans and toss lightly. Cover and reduce heat to medium-low. Cook for 4 minutes more.
Uncover, add balsamic vinegar & reserved bacon. Toss and serve immediately.