Pan Roasted Chicken With Vegetables
Annacia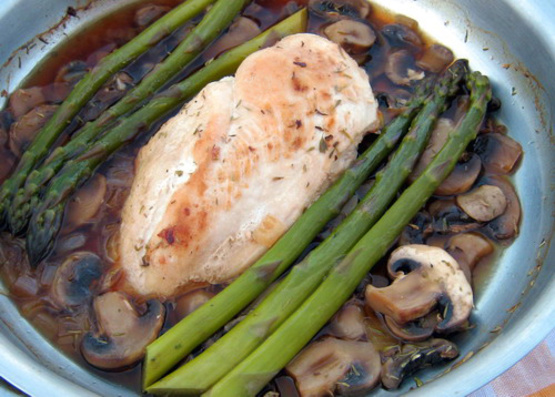 Recipe source: Sunset (February 2008)

This is a terrific recipe. I used one big chicken breast and it made dinner for us both. It tastes lovely and is easy to make. The one thing that I didn't care for is that the mushrooms (I used sliced buttons because I had them) make a LOT of liquid and even after an extra 8 mins in the oven was still a lot. I added some dried thyme to the pan before putting it in the oven and skipped the parm because DH doesn't care much for it. It was great to just take the pan out to the deck and we served ourselves from it (dinner didn't get cold while I took pix!). Thanks ellie :D.
Preheat oven to 350- degrees F.
Heat oil in large ovenproof frying pan over high heat until oil is hot but not smoking.
Add chicken breasts, top side down and cook until golden brown (2-5 minutes); turn chicken.
Add shallots and garlic to pan, stirring occasionally until shallots are soft (3-5 minutes).
Add chicken broth, thyme, mushrooms, salt and peper and cook until mixture boils (1 minute).
Lay asparagus over chicken; cover pan and put in oven. Bake for 15 minutes or until chicken is cooked through and asparagus is tender. Transfer chicken to a plate.
Season vegetable mixture with salt and pepper.
Divide vegetables among 4 plates and top with a piece of chicken. Spoon sauce over all.
Garnish with chopped thyme and Parmesan.