Pan-Roasted Chicken With Spiced Honey
WiGal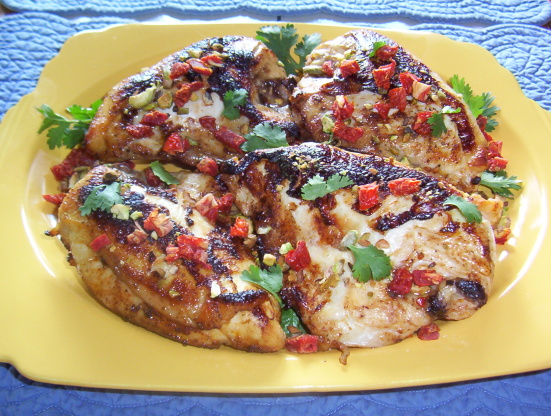 This wonderful African dish was adapted from Matthew Kenney's Mediterranean Cooking (Chronicle Books). WINE: 1996 Ravenswood Vintners Blend Zinfandel. This lightly spicy American wine will be a nice addition to the rich and slightly spicy chicken.

So very good. sweet and spicy and juicy. I did nearly burn the chicken...I should have checked it after about 12 minutes or so because I used half of a cut up chicken instead of breasts. But the taste was wonderful! Made for the African Spice Challenge and subbed a homemade blend for the chili powder. Also substituted peanut oil for the olive oil. Thanks for sharing!
In a medium bowl, combine the olive oil, honey, cumin, cardamom, paprika and chile powder. Season the chicken breasts with salt and pepper and add them to the bowl, turning to coat with the marinade. Cover and refrigerate for at least 1 hour or overnight.
Preheat the oven to 425°. Spread the pistachios in a pie plate and toast for about 4 minutes, or until fragrant. Let cool slightly, then coarsely chop the nuts. Leave the oven on.
Heat a large ovenproof skillet over moderate heat. Remove the chicken from the marinade and add the pieces to the skillet, skin side up. Cook, turning once, until browned, about 2 minutes per side. Spoon off any excess fat and transfer the skillet to the oven. Roast the chicken for about 18 minutes, or until cooked through. Transfer the chicken to plates, garnish with the pistachios, sun-dried tomatoes and cilantro and serve.