Pan Roasted Chicken and Veggies
Bev I Am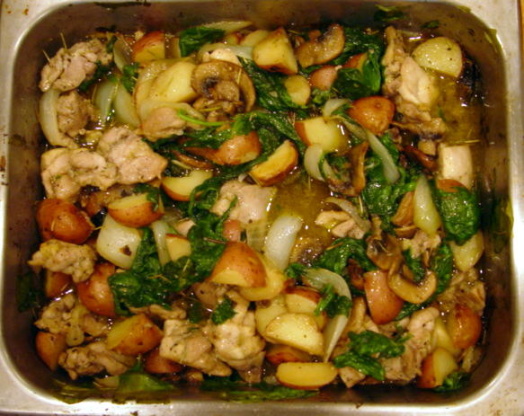 Only one pan to wash with this wonderful casserole type dish which combines potatoes, rosemary, onions and garlic with quartered boneless chicken thighs and fresh spinach.

Deeee-licious! I too had to increase all cooking times by 10 minutes. I also added mushrooms which was a perfect addition and used fresh rosemary (1 1/2 tsp) rather than dried. One suggestion though - if you place the spinach over the chicken mixture and roast until it wilts, you end up with one big gob of spinach which is difficult to separate. Next time, I'll stir the spinach into the chicken mixture. And there WILL be a next time . . . loved this dish!
Preheat oven to 475°F.
In large roasting pan, combine potatoes, onion, garlic, oil, salt, pepper and rosemary and toss to coat.
Roast veggies 25 minutes, stirring once.
Lightly salt and pepper chicken and add, tossing to coat and roast 15 minutes longer or until chicken is done.
Place spinach over chicken mixture and roast for 5 minutes longer or until spinach wilts.
Toss before serving.