Pan Roasted Cherry Tomatoes

A perfect side (from Canadian Living) when tomatoes are in season without turning on your oven! I made it last night using Juliette tomatoes from my freezer and Italian Blend Spice Mix Italian Seasoning. It was quick, easy and very good - I'm sure that it will be even better when the new tomato crop is available!
Directions
Heat oil in a large skillet over medium-high heat.
Add next 7 ingredients and fry until tomatoes are shrivelled, stirring occasionally, about 5 minutes.
Stir in balsamic vinegar and serve.
Reviews
Most Helpful
Very good!! I had a lot of cherry tomatoes and guilt that went with not being able to use them so this was perfect! I was able to pick quite a bit and at the same time, relieved my guilty conscience Ha! Thanks so much, my husband and I both enjoyed it,and its going into my Favorites cookbook for the future.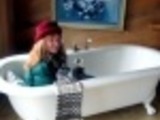 Loved this dish Marg, I doubled the complete recipe increased the garlic and sprinkled some Parmesan cheese over after cooking, *so* good! thanks for sharing hon!...Kitten:)
Oh this dish was totally yummy. Very easy to assemble, quick to cook, pretty on the plate and very tasty. What more could I have asked for? The first time I did not have any red pepper so subbed black instead but the second time I made it I used red pepper flakes and it was better tasting. It is great with the fresh tomatoes available right now so I am making it quite often. Thanks for posting CountryLady.