Pan Roasted Cherry Tomatoes
Kitty Z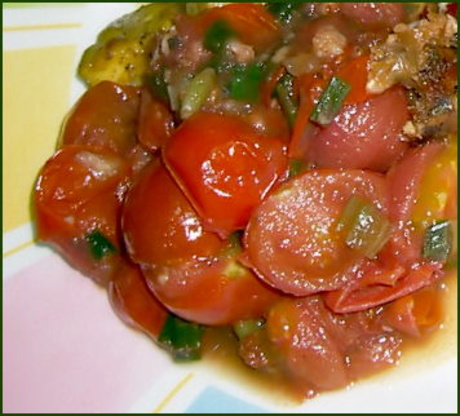 A perfect side (from Canadian Living) when tomatoes are in season without turning on your oven! I made it last night using Juliette tomatoes from my freezer and Italian Blend Spice Mix Italian Seasoning. It was quick, easy and very good - I'm sure that it will be even better when the new tomato crop is available!

I had two baskets of grape tomatoes on hand that I planned on pan roasting before they went bad. Searched online to get ideas and saw this recipe. Made it pretty much as written but I used the grape tomatoes whole since they're pretty small. Came out really nice. Next time I'm going to throw in some fresh basil at the same time I add the balsamic vinegar. My husband really liked these tomatoes, too. Perfect alongside grilled London broil and pasta with porcini mushroom cream sauce. Whole dinner took me a bit more than 30 minutes after I rehydrated the dried porcinis in chicken stock for 30 minutes. While they soaked, I sliced the 8 oz. of fresh button mushrooms for the sauce. Cooked the meat on the stovetop griddle, which only took 12 minutes for medium rare, plus a 6-minute rest prior to slicing.
Heat oil in a large skillet over medium-high heat.
Add next 7 ingredients and fry until tomatoes are shrivelled, stirring occasionally, about 5 minutes.
Stir in balsamic vinegar and serve.