Pan Roasted Cherry Tomatoes

A perfect side (from Canadian Living) when tomatoes are in season without turning on your oven! I made it last night using Juliette tomatoes from my freezer and Italian Blend Spice Mix Italian Seasoning. It was quick, easy and very good - I'm sure that it will be even better when the new tomato crop is available!
Directions
Heat oil in a large skillet over medium-high heat.
Add next 7 ingredients and fry until tomatoes are shrivelled, stirring occasionally, about 5 minutes.
Stir in balsamic vinegar and serve.
Most Helpful
Great recipe for tomato season. We didn't have green onions, so used chives from our garden instead. We added some cooked chicken and served this atop pasta, and it was very tasty.

Very good!! I had a lot of cherry tomatoes and guilt that went with not being able to use them so this was perfect! I was able to pick quite a bit and at the same time, relieved my guilty conscience Ha! Thanks so much, my husband and I both enjoyed it,and its going into my Favorites cookbook for the future.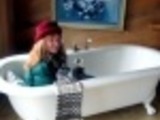 Loved this dish Marg, I doubled the complete recipe increased the garlic and sprinkled some Parmesan cheese over after cooking, *so* good! thanks for sharing hon!...Kitten:)